​Update Every Room in Your Home with Luxury Remodeling
After living in a home for several years, a house can start to feel dated or too small for a growing family. Home remodeling projects can help transform your outdated space into a place that matches your current needs. From a simple renovation to a full remodel, any room in your house can be updated.
ROOM ADDITIONS
It's common to outgrow your home. Instead of moving, how about adding a completely new room to your home. Home additions are built to match your requirements, and they will greatly increase your property value. Our local contractors can refer you to one of our partnered design firms and work with them to ensure that your new room gets built to your ideal specifications.
Room additions can be a tough project for the inexperienced to do on their own. City codes and regulations must be followed at all times. Our highly skilled remodeling contractors will take care to get every build approved before they begin building. With over 25 years of experience our team custom home remodelers know exactly how to build to code and will make adding a new room to your current home as easy as possible.
There are also many other types of home additions. Adding a sunroom or enclosed patio is one of the most cost efficient and popular. If you need an additional bedroom or office, your builders can also make that happen. Our team at TL Erickson can make any home addition that you require and can make sure that the final outcome exceeds your expectations.
UPDATING THE KITCHEN
One of the most popular rooms to renovate is the kitchen. This is one of the most used rooms in a home. A kitchen remodel can actually increase your home's value and you will most certainly see a return on your investment if you ever decide to sell.
Our contractors can help you build out a design to remodel your kitchen. If you are on a tight budget, consider making simple changes, such as changing the sink and faucet. Refinishing the cabinets and painting the walls will also have a huge impact in the space.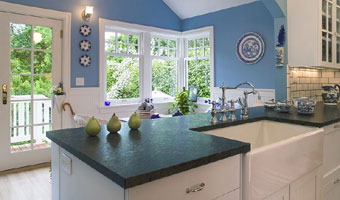 If you want to invest more in a new kitchen remodel, our custom builders can help you completely change the room. We have a ton of experience in installing new flooring, custom countertops, and new appliances. We also work closely with partners who specialize in design that can help you with a new kitchen layout.
BATHROOM RENOVATIONS
Bathroom remodels are another way to give new life to your existing home. Many homeowners like to renovate both the main and master bathrooms to give their homes a fresh new feel. Once again, any renovation made to this space will add to your property value. Our general contractor will work with you to make sure that your renovated bathroom is built to perfection.
If you want to make simple, cosmetic changes to the room, consider starting with the floor. Tile and stone floors are always popular, and they are easy to maintain over the years. If the vanity is outdated, consider replacing it with something more modern. If the counters are in good shape, then simply swapping the sink and faucets will improve the ambience of the space.
Our Remodeling contractors can also help you completely turn a dull bathroom into a spa retreat. Our team is experience in the installation and construction of all luxury amenities. It's our job to make sure you get the perfect bathroom to help you relax after a long day.
BENEFITS OF HOME RENOVATIONS
If you have been putting off renovations in your home, you are missing out some great opportunities to improve your home's value. Also, making home improvements will make your house a better fit for your family. Some of the benefits of renovating your home include:
Improved Property Value
There are many factors that determine the value of your home, one of the most significant being the condition your home is in. Completing one or more home remodeling projects will greatly improve the condition of your home, thus upping your property value. Homeowners who improve their kitchen or bathrooms tend to see the biggest increase in their home's value.
Easier Resell
The real estate market is very competitive, and if you ever need to sell, you'll want your home to be desired by a wide range of potential buyers. Tackling a remodeling project before you decide to sell will ensure your property is up to date and can make your home more desirable to buyers. Once your home hits the market you will be able to see just how much interest a new renovation can bring to a dated home.
Fewer Problems
The longer you live in a home, the more you will see things wear out. Floors, fixtures, appliances, and even paint will begin to show their age. Making simple home improvement changes will ensure that you don't have to worry about any of these turning into a costly problem. Your high quality, luxury renovations will make sure that your house continues to hold that fresh new feel.
Homeowners can keep their house in great shape by keeping it updated. A room addition, bathroom renovation, or kitchen remodel will make sure your home has everything you need to be comfortable. Hiring our luxury remodeling contractors will ensure you get high quality updates that fully match your unique tastes and personality. It's never been easier to transform your current home into an updated, more livable space.