Bring your dreams to life with our custom home builder
Everyone imagines living in their dream home one day, but many settles for homes that fall far short of what their minds have dreamed up. Imagine being able to build the perfect home for you and your family. By working with, TL Erickson Construction Inc., Seattle's Premier custom home builders, that dream can become a reality.
If you thought you couldn't afford a custom-built home, think again. Not only will you be able to work with our team to come up with a home that fits within your budget, but you will have the freedom to choose the features that you want to be in your home rather than the previous builder has chosen. There are many advantages of working with our skilled contractors for your next home.
Floor Plan Exceeds Your Needs
When buying a home, it's rare to find a home that has been built to the perfect specification of you and your family. Instead, most people have to settle for a compromising floor plan. However, working with our master builder, Todd Erickson, on a custom home will ensure that home is built exactly to your specifications and expertly crafted.
We partner with many designers to help you design your perfect home. Once you have settled on a design you will work with our General contractor, Todd Erickson, on a one-to-one basis. Todd will work with you to get your design built and completed on time and within budget.
Your Home, Just The Way You Want It
If you are shopping around for a new home, it is likely that you will have to settle for a home that is close, but not exactly what you wanted. A custom home, on the other hand, is built with all with all your specifications in mind. By working with our builders, you will be able to make sure that your new custom home is built to your satisfaction.
Our general contractor will make sure that your home design is built with the highest level of craftsmanship, while keeping your budget in mind. Our expertise and experience in the industry combined with your ideas will help us to work together to bring your dream home into reality.
Stay Within Budget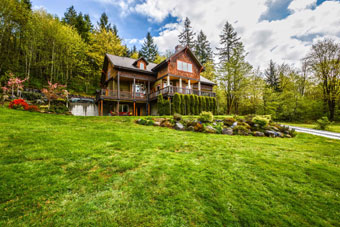 No two people have the same budget when it comes to buying or building a home. Oftentimes, a person may shop outside of their budget just to buy a property within a certain timeframe. However, if you work with our team of home builders in WA on a custom project, you can feel confident that your new home will be built on time and you will be able to move into your new home without going over budget.
Our team of home builders will make sure that your design can be built within your budget. With over 25 years of experience in building custom homes, we know exactly which materials to use and how to source them to make sure we stay within your price range. We will work with you every step of the way to make sure both of us approve any changes before moving forward. In the end, you'll move into your perfectly built custom home that doesn't break the bank.
Location, Location, Location
One of the great things about building a custom home is that you have the freedom to choose where your home is built. Some buyers like larger properties, while others prefer a smaller lot that requires less maintenance. No matter what you want, our general contractor will work with you to build your home on a lot that fits exactly what you are looking for.
On top of being able to choose a lot that works perfectly for building your custom dream home, you also have the benefits of selecting a specific neighborhood, choosing a great school district, or being near family and friends. Our builder can help consult you on locations for your new home and work with you to develop a master plan for building on your new lot.
Move on Schedule
Many homebuyers are looking to move to their new home by a specific date. Whether you are ready to start a new job or need to be out of your current residence, it's important to move on time. Our home builders in Seattle will work around the clock to make sure your new home is finished according to schedule. You can rest assured that you will be moving into your home on time.
Building a custom home does take a while to complete from start to finish, but our master builders will make sure you are provided with a clear timeline for your construction. It's their mission to make sure you are able to move in on time and make sure this process is as smooth as possible for you and your family. Any delays will be communicated with you, and they will go out of their way to resolve them quickly.
Our
Custom home builders
pride themselves on their customer satisfaction. By building a custom home, you are sure to get everything you could ever want in your home, from a great layout to the perfect lot. Imagine moving your entire family into a home that fits them perfectly. Having a custom home built is the best way to make this happen.
There's nothing more rewarding in life than finally moving into the perfect home for both you and your family. Fine homebuilding doesn't have to break the bank. Anyone can hire a local team of skilled contractors to custom build a great home for them. With TL Erickson Construction your dream home is within your reach.